Black Friday is here! Not that we all haven't been shopping online for most of the year already. We found some of our favorite deals that will get your pup ready for Santa Paws!
The Dog Christmas is real (just like Santa Paws) and isn't going anywhere. Why wouldn't we want to show our love to the least annoying family member? It just makes sense. So check-in with your pup to see if they have created their Santa Paws Christmas list, and remind them how the good doggo's get the toys!
---
Recordable Answer Buzzers
Have you seen any of the Tik Tok or Youtube's where dog mom's are training their dog's how to essentially "talk" to them? These are Recordable Answer Buzzers buttons where you press down and can either have a sound or your actual voice play. I am currently using one to teach my girls when it's time to go potty outside. They have to walk over to the button beside the door and push it. It's been a fun bonding experience, although they have not perfected it yet so we will keep on practicing. These buttons are about half the price of the usual price today and comes in packs of 4!
---
Dog Activity Tracker Collar
The Fi Series2 has their newest smart collar $75 off today with code BLACKFRIDAY. These collars have cutting-edge technology to let you know when your pup wanders off (ever leave a gate open?) so you can immediately react.
It is chew-proof, water-proof, and really any-type-of-situation-your-dog-gets-into-proof. It uses Wi-Fi and Bluetooth to track their walks and activity and make sure you are keeping them as active as they need to be. In addition to different sizes and cool collar colors, it also comes with an LED light for night time tracking that you can naturally adjust to your dog's favorite color as well (because clearly, they have one.)
---
Dog Luxury Seat Cover
If you have a dog or your friend has a dog and does not own a dog car seat cover, this will change your life.
I have used these forever and the amount of fur and mud the dogs would put in your car would now go on this easy to wash mat. Wet dog that doesn't listen when it sees mud? This 'cover' has it covered! It's scratchproof with two seat belts for your pups and is a durable nonslip dog seat cover. There's even a side pocket for their leash and activities! Black Friday is the perfect day to grab this before the holiday seasons wipes stores clean.
---
Light Up Christmas Sweaters
Is your pup going to any ugly sweater Christmas pawties this year? Dog.com has an awesome Black Friday sale going on and everything is also 20% off (and 30% off if you spend $70!) These sweaters have a small/lightweight inner stitched pouch with the LED On and Off button.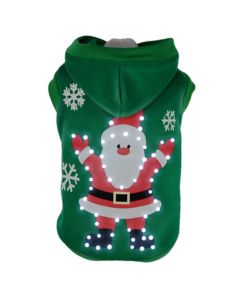 There is a leash slit for easy attachment and a belly Velcro enclosure for easy dressing. It's comfy, it's fun, and some of them are cuter than others. But that's what the ugly Christmas pawties are for! Check this sweater and other clothes/dog toys/more out here.
---
Furbo Dog Camera
Chewy.com has some much technology pup toys on sale for around 50% off for Black Friday – including the Furbo Dog Camera! I have had one for many years and it has yet to disappoint me. I love when I leave I get to check-in on them whenever I want. There is a Nanny feature you can subscribe to as well that contains features such as letting you know if someone else is in the room and it takes live action videos automatically when there is movement! This camera is a 1080p full HD camera with night vision and a cool wide-angle view to capture the most of your home. You can talk with your pup and give them treats via the app (yup, real treats) and the set-up is easy peasy. All I do in plug it in when I leave, and it's good to go. This is one of my favorite gifts I have ever received for my pups.